Acuity Scheduling
Certified Expert Program
The ACE up your sleeve for all things set up, business strategy & tech support
Our Acuity Scheduling Certified Expert (ACE) Program Is Pretty Dang Special
---
Acuity was built on one big idea: we all deserve businesses that run better by default. While the Acuity Scheduling platform is easy (peasy) to use, our ACE partners are standing at the ready to help you in a pinch and show you the shortcuts for getting the most out of Acuity.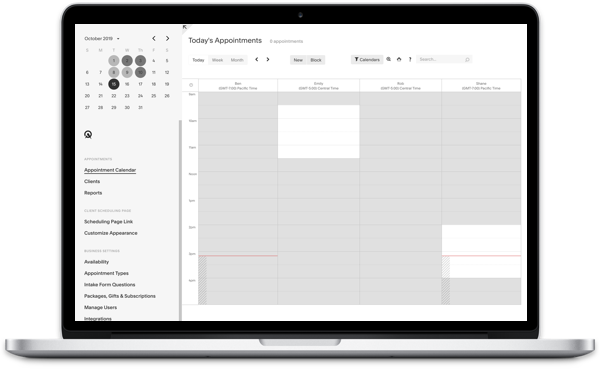 Let's Rock the Road Less Travelled
---
The Acuity Scheduling Certified Expert (ACE) Program is all about bridging the gap between your day-to-day business and your big, fancy daydreams. Sometimes, this looks like a little extra set up help. Other times, you might have an amazing vision for new features or integrations that don't currently exist. Wherever you want to go, our ACE partners can help you get there.
Working With An ACE + Winning Forever

Understand and express your needs clearly to ensure you and your ACE partner are on the same page.
Be friendly and work to build a relationship with your ACE partner. They're good people who love Acuity as much as we do.
Respect your ACE partner's time and advice. They are certified in Acuity, which means they know what they're talking about.
Give feedback if something just isn't right. ACE partners are pros and value feedback to make sure their work is on point.
Our ACE partners charge for their work. So, it's best to talk openly about budgets so that money matters don't become an issue.
Becoming An ACE + Saving the Day

You must know, love, and use Acuity yourself in your business.
You must have a demonstrable expertise in the particular ACE service classification tier for which you desire to become a partner.
You possess amazing communication and organizational skills that ensure expectations are set and managed with your customers.
You are devoted to providing the best customer experience possible for the Acuity customers that you work with.
Be willing to complete a monthly check-in form regularly as well as attend a minimum of one Acuity learning event per year.
Our Experts Have Star Power
---
While all of our expert partners are awesome, some have more experience than others. We rank our amazing ACE partners using our three star power system.
One-Star ACE Partners
Certified on Acuity and have worked with a few amazing Acuity customers to date.
Attend an annual Acuity learning event.
Work with a minimum of three Acuity customers.
Are not yet classified into one of our service tiers.
Two-Star ACE Partners
Surpassed one-star status by accruing more experience and receiving a classification.
Attend two Acuity learning events per year.
Work with a minimum of six Acuity customers.
Are classified into one of our service tiers.
Three-Star ACE Partners
Gained our top-star status by demonstrating exemplary performance for at least two years.
Attend three Acuity learning events per year.
Work with a minimum of 10 Acuity customers.
Have passed our advanced certification process.
An Expert Exists For Every Need
---
From rockstar set-up experts to uber-smart developers, our ACE partners can help you answer any question, solve any problem, and show you the way forward.
Set-Up Ninjas
Set-Up Ninjas are your go-to resources for getting you up and running on your very own Acuity Scheduling account.
Find a Ninja
Business Strategists
Business Strategists are the brainiacs you go to when you have questions about how best to use Acuity within your business.
Find a Strategist
Technology Wizards
Technology Wizards are the talent you hire when you want some new technical thing-a-ma-jig built that plays friendly with Acuity.
Find a Wizard
Calling All Experts, Go-Getters, and Fellow Human-Helpers!
---
You're a service professional who loves Acuity almost as much as Rocky Road ice cream, and can't wait to work with more awesome clients. (You're also organized, friendly, and skilled.)

Sound like you?
Apply to become an ACE partner, and see what we mean when we say win-win.
Apply Now
One of These Friendly Experts Is Here to Save Your Day
Filter by:
All Experts
Set-Up Ninjas
Business Strategists
Technology Wizards
Frequently Asked Questions
---
Does Acuity Scheduling charge a fee to work with an ACE partner? No, not even a penny! While our ACE partners do charge for their work, we do not take a cut.
How do I get in touch with an ACE partner? Simply click on their headshot or logo above, which will take you to that partner's web page with contact information.
Who are these ACE partners? They are third-party service providers who help customers like you get the most out of Acuity.
How are ACE partners chosen? Each ACE partner has been certified by our team through our application and review process. Only the best become ACEs.
What happens if I have a problem working with my ACE partner? We encourage you to give constructive feedback to your ACE. Our ACEs are committed to providing you with a great working experience.
How do I become an ACE myself? We're thrilled that you're interested! Find a link to our application above on this page. That's the start.